Awards & Accolades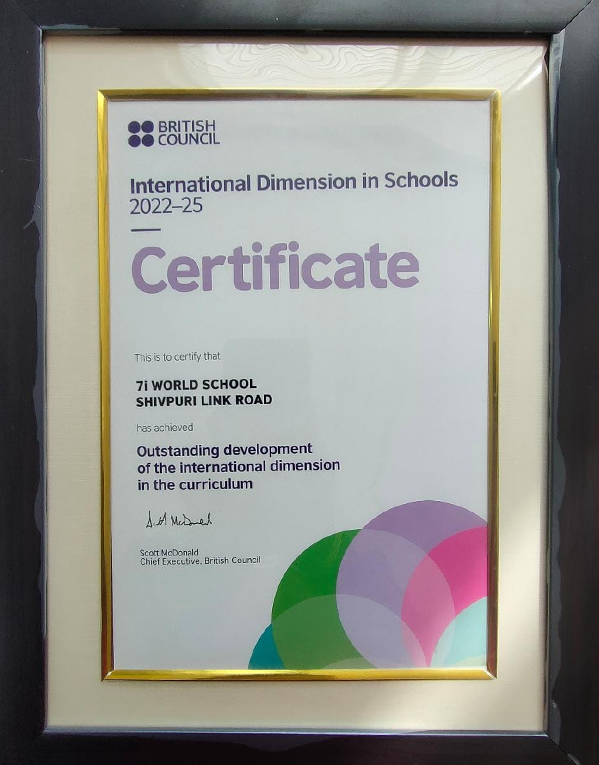 "Who you are tomorrow begins with what you do today".
7i World School undoubtedly proves the above words to the core and continues to add feathers in its hat. 7i World School has been successful in reachieving the International School Award provided by the British Council and is accredited for the period 2022-25. IDSrecognises, fosters and celebrates the practice of internationalism in schools. It is a benchmarking scheme that accredits schools for having an outstanding level of support to nurture global citizenship in young people and in enriching teaching and learning process. IDS activities, round the year in school had a positive impact on not just the students, but also on the faculty members. It also encouraged team building, leadership, management skills and above all inculcated an innovative approach in all of us.
Working on the Action Plan and the dossier encouraged collaborative and critical thinking of the staff and motivated them to improve their teaching standards. It also opened a new aperture for our students to other countries' culture and history and gave them an all encompassing global outlook. The school appreciates the diligent efforts put in by the IDS Coordinator and all staff members involved as this herculean task couldn't have been completed without them. Our joy knows no bounds as our hard work finally fructified.
As the saying goes : "Innovation is the only way to win" and the 7i family has not only embraced the above words but also manifested and demonstrated it.
The British Council International Dimension in Schools(IDS) virtual Award Ceremony took place and the school was conferred the IDS award in March 2022.